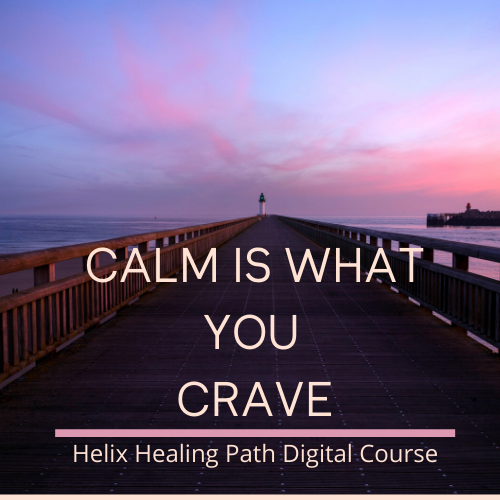 Digital Courses at Helix Healing Path
"Calm is What you Crave" is a digital course designed is to provide you with effective, tangible and practical strategies you can begin to implement and integrate into your own life. The strategies and methods I'm teaching are highly beneficial in making positive changes in the central nervous system, which allows you to become more calm, centered, and clear-headed. You'll begin to witness changes in your mental-emotional resiliency and your ability to self-regulate emotions more effectively.
Additionally, through my own personal journey, I've found energy-clearing methods to be quite valuable to clear underlying, negative emotions. These deeper, energy-clearing meditations are specifically aimed for you to connect directly to God/ Source / Creator / The Universe / The Light to bring in Divine assistance and light to clear and eradicate old patterns and limiting self-beliefs. When you continuously clear out low-vibration emotions, trauma and patterns no longer serving your best and highest good, and will allow you to move forward more easily.
Coupled with the practical tools, you're armed and ready to move into a brand-new space! By the time you've completed this course, you'll have a variety of techniques to bridge mind-body-spirit.
Includes four modules with four lessons; 12+ hours of education and instruction. Combinations of videos, pdf worksheets, audio meditations.
$397 
To learn more...
To learn more about the course curriculum and watch the preview video, click on the link.